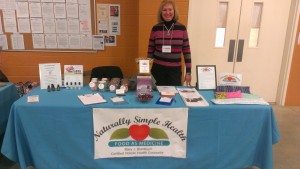 I had the pleasure of meeting a lot of nice people today while being a vendor at the Tastes of the Alleghenies event in Hollidaysburg, PA hosted by the Altoona Mirror.
It was a celebration of foods. There were nutritionists, a food co-op, a lady who raised Aracauna and Americauna Chickens, and sold her free range eggs. I was extremely excited to meet her, because I too have Aracauna chickens. They are also known as Easter egg chickens, because they lay colored eggs. The eggs can be anywhere from a sage green to a blush pink, to a pretty light aqua blue.
There were several cooking demonstrations held throughout the day. One of which was put on by me. It was the first time I had ever cooked in front of an audience. I was more than a little nervous, but I had a really great time bringing healthy foods and ideas to new people. I'll share more about that next time.