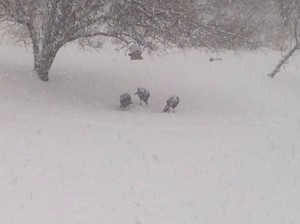 Since my hubby had a stroke last weekend, we decided to have a low key, stay at home Valentines Day. It's a good thing we did. Our Valentine's Day went from having snow fall to having a full blown blizzard.
These are pictures of the same apple tree, from the same window, from my office, of my house, about 1 hour apart.
I felt really bad for the wild turkeys that were out there.
It was a wild Valentine's Day. We now have another 7 inches of snow on the ground, on top of the 14 inches we already had. It could be worse, at least we're not Boston.
I'm so glad that I can work from home.