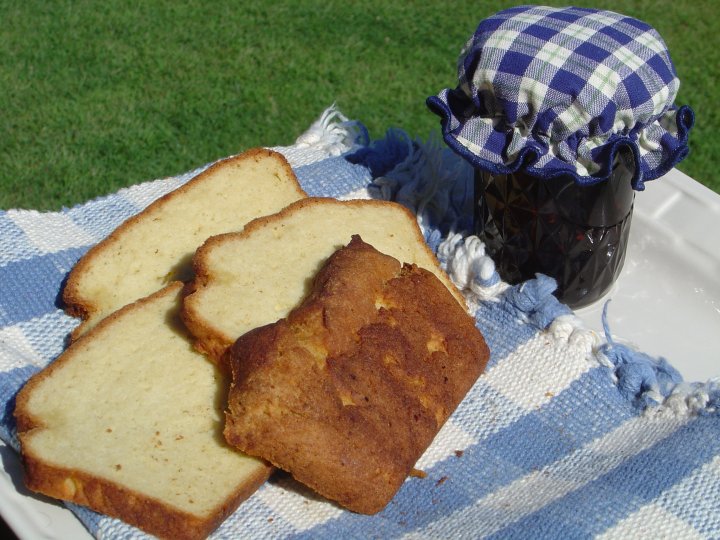 Regular glutenous bread is probably one of the hardest things to replace when you start a gluten-free diet. Why? Because gluten-free bread doesn't possess the obvious…Gluten! Gluten is what gives the bread the glue to hold it together and also gives the dough that stretchy elasticity.
When I was first diagnosed with celiac, I tried and tried to make a good gluten-free bread. The loaves were small, dense and fell apart. I tried store bought gluten-free bread or rather mail order bought bread. It was worse! It was dry, and had a dried out sponge like texture. I got so discouraged that I stopped trying and just started eating rice cakes as a bread substitute.
Well that got old real fast. So I went back to the drawing board. I finally hit on the need for Xanthan Gum. It's been so long that I don't remember exactly where or how I learned about the addition of it, but it mimics gluten enough that it helps to give gluten-free bread dough that elasticity. After many tries, this is the recipe that stuck. With Thanksgiving coming up, I figured that this would be a good time to share a bread recipe. Hope you enjoy it! Let me know in the comments below if you try it and what you think.
Better Than Store Bought Gluten Free Bread 
3   Extra Large Eggs, beaten
3   Tablespoons Olive Oil
1 1/2   Cups Warm Water
1   Cup Sweet Rice Flour
1   Cup Rice Bran
1 1/2   Cups Brown Rice Flour
2 1/4   Teaspoons Xanthan Gum
3 1/2   Tablespoons Granulated Sugar
1 1/2   Teaspoons Salt
1/2   Cup Powdered Milk
2 1/4   Teaspoon Active Dry Yeast
Preheat oven to 375 degrees.  Sift all dry ingredients in a bowl.  In a separate large mixing bowl, mix all wet ingredients until well blended.  (I use my electric stand mixer with the dough hook attachment.)  Add dry ingredients to wet ingredients, 1/2 cup at a time while mixer is mixing and beat well, until dough is thick but not too stiff.  Pour batter into a greased loaf pan.
Cover and set aside in a warm location for one hour to rise.*  Once dough rises, bake for 50 – 60 minutes or until edges are well browned.  Remove immediately from pan and brush butter or margarine on top of bread.
Yield:  1 loaf (about 12 – 16 slices)
*I heat a cup of water in my microwave oven for about 1 – 2 minutes and then place my bread dough in the warm microwave to rise.
This bread is more like a whole wheat loaf of bread, rather than a loaf of white bread.
If you try this recipe, please let me know what you think of it.
I forgot to say that you want to keep your gluten free flours in the refridgerator or freezer.  Then bring to room temperature before using.
Actually, gluten free baking works best with all ingredients at room temperature before using.
If you'd like to put a little healthy into your holiday season please join me for my free program Naturally Essential Healthy Holidays.