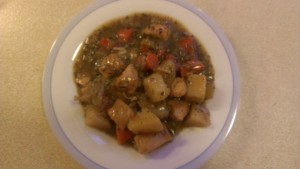 Over the weekend, I wanted to make something hearty to eat. I thought, beef stew! Well I didn't have any beef in the house, but I did have chicken.
Hmmm, chicken stew. I've never made it before. So I did what everyone else does when they are looking for a new recipe…I hit the internet.
I Googled chicken stew and got everything from chicken and noodles to chicken cacciatore. I finally came upon a recipe for Herb Chicken Stew here. It looked good so I printed it out.
However after reading through it, I realized that, in my opinion, it needed some revamping, like the addition of garlic and mushrooms. So the following recipe is my version of the Herb Chicken Stew.  I call it:
Chicken Stew with Herbs
Ingredients:
1 cup all-purpose gluten-free flour
1 tablespoon paprika
2 pounds boneless/skinless chicken breasts, cut in 1/2 inch dice
about 2-3 tablespoons olive oil
1 teaspoon sea salt
1/2 teaspoon black pepper
1/4 cup white wine*
2 large onions cut into chunks
4 large carrots, washed, scrubbed and cut into 1 inch chunks
3 ribs of celery diced
4 large potatoes, cut into 1/2 inch dice
2 cloves of garlic, minced
1 cup of chopped white button mushrooms
1 tablespoon dried thyme
2 tablespoons dried basil
1 tablespoon dried oregano
1 tablespoon ginger powder
1 tablespoon fennel seeds, roughly chopped
2 tablespoons gluten-free soy sauce, I use LaChoy brand
1 quart gluten-free chicken broth or stock, I use homemade
Directions:
Pour 1 tablespoon of the olive oil into a 6 quart dutch oven on high heat.  Mix flour, paprika, salt and pepper together in a bowl and dredge the chicken pieces in the flour mixture. Shake off excess flour and carefully place chicken pieces into the hot oil to brown, add extra olive oil if needed.
When chicken pieces are browned, remove them from the dutch oven. Pour in the white wine to deglaze the dutch oven. Be sure to scrape all the brown pieces sticking to the bottom of the pot, that's where all the flavor is. Let the wine simmer for about 2 minutes. Place the onions into the dutch oven with the wine and saute` for another 2 minutes.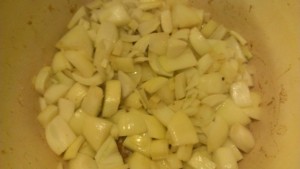 Add carrots, celery, potatoes, mushrooms, garlic, thyme, basil, oregano, ginger powder, fennel, soy sauce and chicken stock.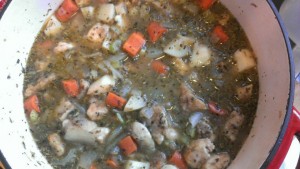 Bring to a simmer and add the chicken back into the pot. Cover and simmer on low for 2 hours.
When the 2 hours are up, remove lid and simmer uncovered until stock is slightly reduced.
Serve with a good, crusty, gluten-free bread.