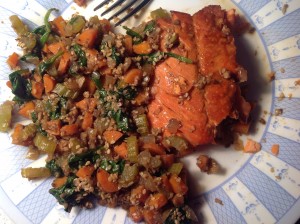 Since my dear hubby had a stroke last weekend, for Valentines Day, I decided to forgo my favorite dinner, steak on the grill, for something a little more heart healthy and I came up with this recipe.
I really, really liked it…my hubby, not so much. After I took the first bite, I knew he wasn't going to like it. Teriyaki Sauce is sweet. I did not know this. 🙁 He doesn't like sweet meat or fish.
Anyway, here is the recipe for our Valentine's Day dinner.
Teriyaki Salmon with Vegetables
Ingredients:
2 (6 ounce) wild caught salmon fillets
3 tablespoons sesame seeds
2 carrots cut in small dice
2 celery stalks cut in small dice
1 medium onion cut in small dice
1 garlic clove
1 cup of fresh spinach
gluten-free low sodium teriyaki sauce (I use LaChoy brand)
2 tablespoons Olive oil
1 teaspoon ginger powder
1/4 cup white wine
Directions:
Combine 5 tablespoons of gluten-free teriyaki sauce and salmon in a ziplock bag. Seal and marinate for at least 20 minutes.
Toast sesame seeds in a large nonstick skillet over medium heat and set aside.
Add 1 tablespoon of the olive oil to the skillet, add the onion, carrots, and celery. Saute until soft, about 15 minutes.
Stir in white wine and 2 tablespoons teriyaki sauce.  Cook for 10 minutes. Add in the spinach and let it wilt. Remove vegetables from skillet and keep warm. Add the other tablespoon of olive oil. Drain salmon and discard marinade. Add the salmon to the skillet and cook 5 minutes. Turn over and cook for 5 more minutes. Add the vegetables back to the skillet and warm.
Plate the salmon and the vegetables. Sprinkle with the toasted sesame seeds and serve.
Serves 2.
Hope you enjoy!