Have you ever had Kale?  No I don't mean the stuff you find on the supermarket shelf in a can, right next to the spinach.  I mean fresh, raw kale that you find in the fresh fruits and vegetable aisle.  Huge difference.
First of all, what is kale?  Kale is a member of the cabbage family that is packed with nutrition.
I love kale!  It is one of my favorite green vegetables and a total staple in my kitchen.
You say your kids won't eat kale?  I say I have a recipe for kale that will keep them coming back for more.
What is this magical recipe?  Kale Chips!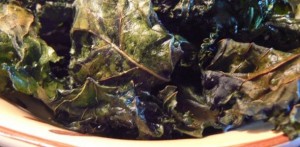 They may not be potato chips, but they're a good healthy replacement. These crispy and nutrition-packed chips are sure to be gobbled up quickly.
Ingredients:
 One bunch kale cut in bite sized pieces
Olive oil
Salt and pepper
How to Make It:
 Preheat your oven to 325 F.
Wash the kale thoroughly and rip it up into bite sized pieces, discarding the stems.
Here's a run down of what just one serving of kale chips have to offer nutritionally speaking:
50 calories
10 grams of carbohydrates
2 grams of dietary fiber
3 grams of protein
1 gram of fat, of which just 0.1 is saturated
no cholesterol
2 milligrams of potassium
769 micromilligrams of vitamin A
Iron
and trace amounts of the following:
Calcium
Magnesium
Phosphorus,
Vitamin C
Vitamin K
You don't have to tell the kids that they are full of vitamins, just let them think they're good! 😉