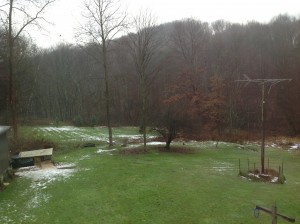 Right now this is not what my yard looks like. We are still buried in about four inches of snow, but I'm looking forward to Spring.
Spring beckons you to get outdoors and hike, bike, walk, play tennis, throw a Frisbee – whatever!
I hope the promise of Spring brings you inspiration to go after your own personal health and wellness goals. If you ever have any questions or would like someone to talk to about your food challenges and goals, I'm here to support you!
My SuperFood of the Month?
Spinach
Yes, Popeye was right – this dark-green leaf really packs a nutritional punch, helps fight cancer, builds strong muscles, and much, much more! (Keep reading to learn more.)
Food science studies continue to show that eating spinach helps improve health and reduce the risk of many health issues, from cancer to memory loss to strokes. Here's just a short list of what makes Spinach a SuperFood!
o Reduces the risk of cardiovascular disease and strokes
o Protects against the occurrence of cancer, including colon, lung, skin, oral, stomach, ovarian, prostate, and breast cancer
o Helps regulate blood pressure
o Builds muscle and strong bones
o Helps prevent memory loss and cognitive decline
o Protects against skin problems such as eczema and psoriasis
o Acts as a

natural

diuretic and laxative
o Performs as an anti-inflammatory
o Reduces migraines
o Prevents cataracts and macular degeneration
What's in Spinach?
One of the more exciting recent discoveries about what's in spinach is the presence of glycoglycerolipids. You may not have heard glycoglycerolipids before because people are just starting to talk about them. Glycoglycerolipids are the key players in plant photosynthesis, and new research shows that they can prevent inflammation and damage in the digestive tract. What else are you getting in a cup of spinach? Here's how it stacks up by percentage of Daily Values:
Nutrient DRI/DV
Vitamin K 987.2%
Vitamin A 628.8%
Manganese 84%
Folate 65.7%
Magnesium 39.1%
Iron 35.7%
Copper 34.4%
Vitamin B 232.3%
Vitamin B 625.8%
Calcium 24.4%
Potassium 23.9%
Vitamin C 23.5%
Fiber 17.2%
Vitamin B 114.1%
Vitamin B 35.5%
Source: www.wholefoods.com