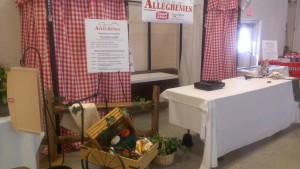 I was at an event in Hollidaysburg, Pennsylvania over the weekend where I had the chance to do a healthy cooking demo. It was the very first demo I've ever done.
Here is the recipe that I made for that demonstration. I hope that you try it and let me know what you think of it.
Healthy Spicy Chicken Salad
2 boneless, skinless chicken breasts, baked or poached and chopped into small bite sized pieces
1/4 cup red, yellow or orange pepper, diced
1/4 cup celery, diced
1/2 cup fresh baby spinach leaves, chopped
1 – 2 very ripe avocados, cubed
1 1/2 teaspoons chili powder
Pinch of sea salt and pepper
Direction:
Chop cooled chicken into small, bite-sized pieces and place in a large bowl. Add diced pepper, celery and spinach leaves: mix well with a large spoon. Add the cubed avocado; mash the avocado into the chicken and vegetable mixture, stirring and mashing until you have a slightly smooth consistence. Add the chili powder, the pepper and sea salt. Mix well. Serve well. Serve on romaine lettuce leaves, unsalted brown rice cakes or toasted gluten-free whole  grain bread. (I lay a few whole spinace leaves on top if I eat it as a sandwich on gluten-free bread.)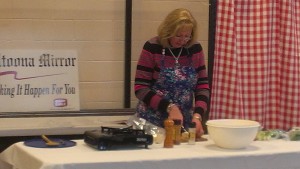 I had so much fun.