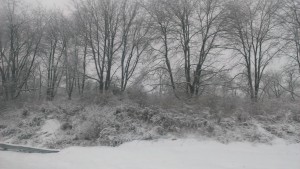 This is where I live, normally known as Western Pennsylvania, but after yesterday, I'm beginning to believe I live in the Frozen town of Arendelle.
I for one am quite glad to see the month of February 2015 be over. From about mid January to March 1st we have had a whopping five feet of snow. 10 inches of which just fell yesterday.
Now I know that Massachusetts has gotten a lot more than that, but we don't normally get that much snow around here.
Here's a picture of my car: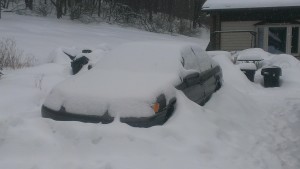 I know what you're thinking, "That doesn't look like five feet of snow," and you'd be right. We had a warm up and a very hard rain last week that melted about two or three feet of snow before the temperatures dropped again, and left us with…three or four inches of ice.
I'm not a snow bunny, so that leaves me with having to walk on my treadmill. Not my idea of a fun workout. Oh and did I mention shoveling snow? Another one of those no fun workouts.
I did find a way to enjoy walking the treadmill a little better…I've started watching all my favorite shows that I don't have the time or take the time to watch any other time.
They are projecting that the temperatures by St. Patrick's Day will be close to 60 degrees. Won't be long til I'm swimming everyday with the grandchildren! 😉