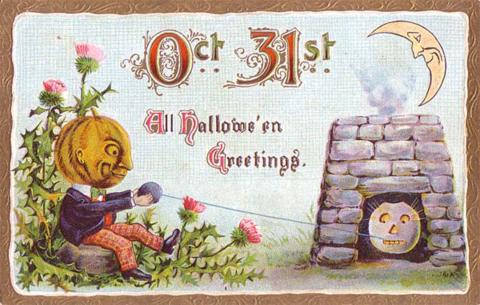 It's always hard to find Halloween gluten-free treats that also have at least a little bit of healthy attributes. These are really good.
Happy Halloween Banana Bites
What You Need:
4 bananas, peeled and cut into bite size chunks
2 t Halloween sprinkles –

Make sure they are gluten-free

2/3 C semisweet chocolate chips
2/3 C milk chocolate frosting (Duncan Hines and Pillsbury are both gluten-free now)
How to Make It:
Cover a serving plate with wax paper.
Place the banana chunks, cut side down onto the wax paper.
Place a toothpick into each banana chunk.
Place the banana chunks into the freezer for 20 minutes or until hard.
Place the Halloween sprinkles into a small cup and set aside.
Dump the chocolate chips into a microwave safe bowl.
Microwave the chips on high for 60 seconds.
Remove the melted chips and stir until smooth.
Place the frosting into the bowl with the melted chip.
Stir the mixture until blended together well.
Place in the microwave on high for 15 seconds.
Remove and stir until the mixture becomes a dip consistency.
Remove the bananas from the freezer.
Dip each banana into the melted chocolate mixture until completely covered.
Sprinkle each dipped banana with the Halloween sprinkles.
Place the banana chunks back onto the wax paper.
Put the all the dipped banana chunks back into the freezer for 1 hour or until the chocolate has completely hardened.
If the chocolate frosting mixture begins to harden before you have all the bananas coated place it back into them microwave and heat on high for 10 to 15 seconds or until soft.  Be sure to stir the mixture before you resume the dipping process.
Makes 10 servings
Preparation Time:  approximately 15 minutes
Freezing Time:  approximately 1 hour 20 minutes
Total Time:  approximately 1 hour 35 minutes
Nutritional Information (approximate values per 2 chunks)
Calories 190; fat 8g; sodium 0 mg; carbohydrates 30g; sugars 23g; protein 1g