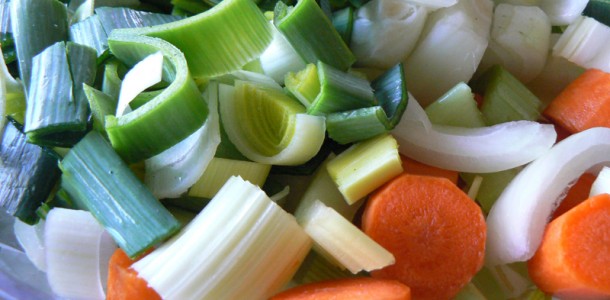 Leeks are such a great addition to soup and you'll love this hearty soup with potatoes and other fresh veggies.
Leeks are part of the Allium family which also includes onions and garlic. When using leeks in cooking, be sure to wash them well. Because they have many layers to them, sandy-dirt collects in those layers so the best way to get them clean is to slice them in half lengthwise and put them into the sink filled with clean cold water and swish them around.
This recipe has been adapted from Jamie Oliver, but the measurements and ingredients have been varied.
 Easy Potato Leek Soup
Ingredients:
2 tablespoons olive oil
2 carrots, peeled and chopped
2 stalks celery, chopped
2 medium onions, peeled and chopped
1 cup cauliflower, chopped
2 cloves garlic, grated or minced
2-3 leeks, cut lengthwise, then rinsed and sliced
4-5 medium potatoes, peeled and diced
7-8 cups of gluten-free vegetable stock, (I make my own)
A handful of spinach or other greens, chopped
Salt and pepper
Directions:
Heat the olive oil in a large pot over medium high heat. Add the carrots, celery, onions, cauliflower and garlic and stir to coat with oil. Jamie Oliver recommend putting the lid on askew and letting the ingredients cook for about 10 minutes this way.
Add the potatoes and vegetable stock and bring to a boil. Reduce heat to medium, put the lid on the pot and cook for another 10 minutes.
Finally, add the spinach or greens and let cook for another 3 minutes or so, until they have softened. Season with salt and pepper and serve.
If you enjoyed this recipe, you might like the ones that are included in my Christmas Ebook:  Create An Old Fashioned Christmas. It isn't just a cookbook, it is also an anti holiday stress book. Loaded with ideas to make the holiday, not only special, but also a little less stressful.