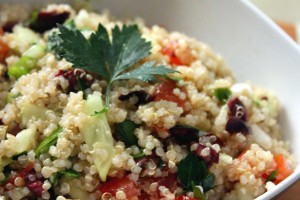 Quinoa is a great grain (actually a seed) for anyone eating gluten-free. It is a complete protein, which means it contains an adequate proportion of all nine of the essential amino acids necessary for the dietary needs of humans.  Some other protein sources may contain all essential amino acids, but are considered incomplete because they do not contain them in the correct proportions for supporting biological functions in the human body.
This recipe is really good for anyone, but especially those who are gluten-free, or trying to lose weight, because quinoa will fill you up and make you feel fuller for a longer period of time and also you can eat more quinoa because it is so low in calories.
I hope you enjoy this recipe.
Warm Quinoa Salad
Serves about 2
Ingredients:
1 1/2 cups of cooked quinoa
1 clove garlic, minced
2 cups baby spinach leaves
1 ½ cup cocktail tomatoes, halved
Dash of extra virgin olive oil
2 green onions, sliced
Sea salt and pepper to taste
Sprinkle of fresh parsley or basil (or any other herbs you have)
Pinch of nutmeg
Squeeze of lemon juice
Instructions:
In a large frying pan or wok, heat the olive oil. Add the garlic and sauté for a minute. Then stir in the cooked quinoa until heated through. Add the spinach, green onion and tomatoes. Sprinkle with nutmeg and fresh herbs and season with salt and pepper. Drizzle with lemon juice and give it a quick stir. As soon as the spinach starts to wilt, remove from heat. Serve immediately.