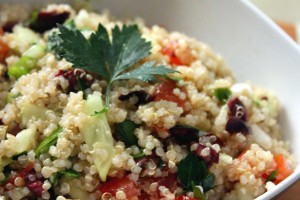 Groceries are expensive. Time is money. And who wants to spend hours in the kitchen each night? It's much more fun to spend that time with family or relaxing. The good news is you don't have to sweat over a hot stove. You don't need to spend a fortune either. Here are five quick, easy and cheap family meal ideas.
#1 Beans and rice – Beans and rice can be prepared so many ways it's amazing. From Mexican style beans and rice, to Cajun style, there's a recipe for everyone's tastes. From the south? Try Hoppin John. It's delicious. Best of all, it's cheap and easy too. And when combined, beans and rice provide a complete protein. No meat required for this meal. Buy canned beans and rice in bulk to really save money.
#2 Roast chicken – Who doesn't love a good old-fashioned roast chicken? Whole chickens are inexpensive and they generally provide enough food for more than one meal. You can use the leftovers for a tasty chicken salad served on a bed of greens or a chicken noodle casserole. There are also two time-saving ways to manage a roast chicken. You can buy a whole roasted chicken already cooked at your grocery's deli. Or you can roast one on the weekend and reheat it for mealtime. (You can also cut the roasting time in half by splitting the chicken down the middle).
I've even put it in the crockpot.  Don't throw those bones away! Use the carcass to make chicken stock.
#3 Fish and a salad – Fish actually only takes a few minutes to cook. And when you buy fish like tilapia and orange roughy you can get it at a very low cost. Grab a bag salad and you have a very healthy meal you can prepare for a few dollars. And it'll take less than ten minutes to prepare.
#4 Soup and stew – Soups and stews are really inexpensive. When paired with bread and a salad they're also quite satisfying and healthy. You can buy premixed soup and stew* items at the store. Just add them to your crockpot in the morning and they're ready when you get home. You can also make them on the weekend and reheat when it's time to eat.
#5 Pasta – You can do almost anything with pasta. In my house it is always gluten-free but still there's…Pasta primavera. Pasta with tomato sauce. Pasta with sardines, capers and lemon. There are literally hundreds of pasta recipes. Best of all, pasta is quick. It's cheap (well not gluten-free pasta, but), and it's tasty. You really can't go wrong with pasta. Add a salad and you have a complete meal.
With a little patience and planning you can serve your family quick and easy meals every night of the week. And you can save money doing it.
* If you or anyone in your family are eating gluten-free be wary of buying and using premixed or canned soups and stews. Most have wheat in them.