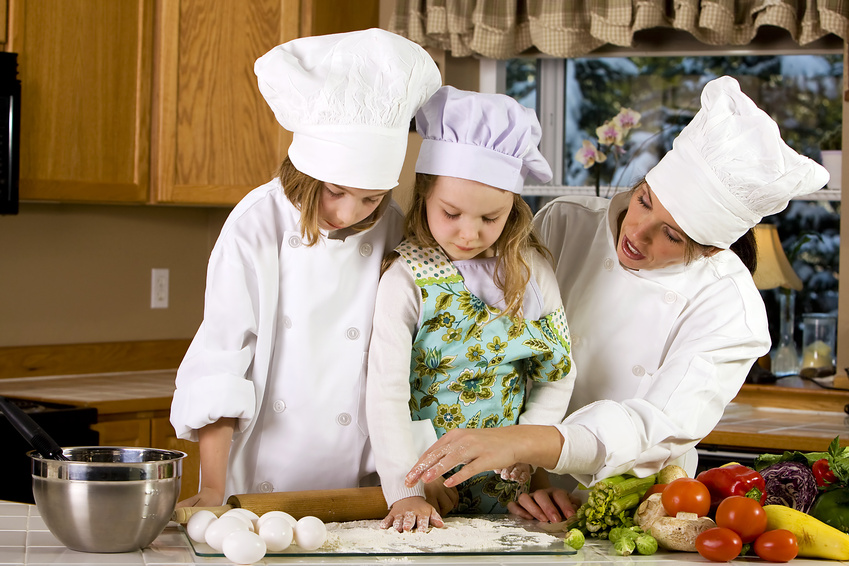 If your family is like my daughter's, there just never seems to be enough time to make good nutritious meals for dinner. She is a full time Cardiovascular Technologist, a full time mother of three young children, (six, three, and one), and wife to a very busy husband. So she used to come home and give the two older children pre-cut raw vegetables to curb junk food munching while she prepared dinner.
Cooking for a family can be a chore. Especially when both parents work full time outside of the home. Parents don't have enough time to put a healthy meal on the table. Kids complain about the food. And mealtime ends up being stressful. It doesn't have to be this way. Here are a few creative ideas for making family cooking fun.
#1 Let everyone choose a meal. Even kids know what they like to eat. Make mealtime planning a family activity. Invite each child to choose a meal for the upcoming week. If they're old enough, they can also help prepare it. You may run into a few bumps with younger children who always choose chicken fingers or pizza. If this is the case you have a few options. You can provide them with a list of three to five menu items to choose from. Or you can look through a cookbook or cooking magazine together to come up with new ideas.
Encourage older children to look at the store supplements too. That way they can help you save money when they're making their menu choice.
This strategy is also a great way to motivate children to try new foods. Give them an age-appropriate cookbook that they can choose their recipes from. You may be surprised what they come up with.
#2 Make ahead meals. Even though I don't have a family to cook for anymore, (it's just Dear Hubby and me), I still incorporate make ahead meals for those nights when we get home late or I'm just too tired to come up with something from scratch. Make ahead meals are great time savers. You can make them, freeze them, and then warm them up for an easy mealtime.
If you're cooking lasagna for example, younger children can mix the cheese sauce while older children brown the meat. All hands on deck for the layering. This is a great bonding experience. One of the things my granddaughters ask to do when they come to my house to stay, is if we can either cook something or bake.  We have great fun, and it also helps your children learn how to cook and manage recipes.  That's certainly a skill boys and girls will need when they get older.
However, make ahead meals also offer something else. They offer you the opportunity to ask your children to help with the preparation, and they keep you in control of the ingredients. Unlike if you are using processed foods from your grocers freezer. Those can be loaded with salt, sugar, and preservatives.
#3 Make it themselves. When children are old enough, ask them to be responsible for a meal. You may have to make the occasional schedule adjustment if they have an afterschool activity. However, this is a fantastic lesson in responsibility. And you'll be surprised how much fun your child can actually have when they're given this responsibility. Try to be supportive. Not all meals are going to be delicious. Use this as a learning experience.
#4 Get everyone involved. Some meals are just made for group involvement. For example, the "make your own pizza" night. Make the dough ahead of time. Buy the toppings that each family member likes. Then let everyone make their own pizza. This is great for a family game night or weekend meal when you have a lot of time to laugh and cook.
#5 Make breakfast for dinner. Switch it up a bit once in a while,  make breakfast for dinner. Pancakes, eggs, waffles – you name it, it's all good. Who says breakfast can only be served in the morning? And if you use flour made from healthier grains like sorgham, quinoa, millet, or buckwheat, all of which are gluten-free and more nutritious than just plain wheat, it's a win win dinner.
There are many ways to get the whole family involved and to make family cooking fun. Adapt your strategies to the ages of your children. Offer support but let them learn and make mistakes too. Cooking teaches many life skills including planning ahead, improvising and of course learning from our mistakes.