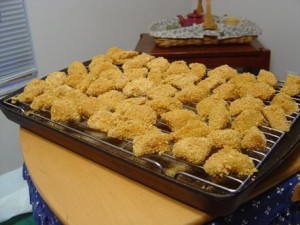 This recipe is great for school lunches, just remember to use a cold pack so that they don't spoil.
3 to 4 lbs. chicken tenders (If you don't have chicken tenders, boneless skinless chicken breasts will work also, just cut into strips)
1 Tbsp smoked paprika
2 tsp brown sugar
1 tsp dry mustard
dash salt and pepper
1 Tbsp cooking oil
Preheat oven to 400 degrees.
If the chicken tenders are too wide, cut in half, so you have strips about 1 inch wide.
Note: you can also use regular boneless skinless chicken breasts cut into strips.
In a large bowl, whisk together the seasonings and oil.
Add the chicken strips to the spice mixture and toss until chicken is well coated.
Remove the chicken and arrange in single layer on large baking sheet.
Bake in preheated oven for 20 to 30 minutes, until chicken is no longer pink. The time will depend on how thinly you sliced the chicken strips.
Remove from oven and cool on a rack.
These may be chilled, then packaged up for a picnic, or may be served warm or at room temperature.