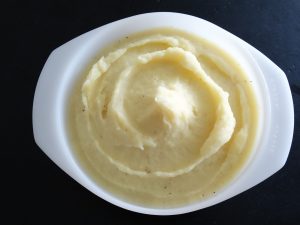 My heritage is German, Scots-Irish, so it stands to reason that I grew up eating a lot of potatoes. I didn't mind, I love potatoes. Especially mashed potatoes, but since going to IIN to become an Integrative Nutrition Holistic Health Coach, I have learned that there are healthier foods out there.
Now because I cook mainly for just my husband and I, I don't have to worry about hiding vegetables in the food, but if you have picky eaters in your family, like I do in my extended family, then this recipe is for you. If you don't tell them, they'll never know that there is cauliflower in the potatoes.
Healthier Mashed Potatoes with Cauliflower
Serves 8
Ingredients:
4 pounds of potatoes peeled and cut in quarters (I like to use red potatoes)
1 small head of cauliflower cut into chunks slightly larger than the potato chunks
2 tablespoons butter
1 to 2 cups of milk (I use unsweetened almond milk)
salt and pepper to taste (if you don't want to see black pepper flecks in your mashed potatoes, you can use white pepper instead)
Instructions:
I use a pressure cooker to cook my potatoes and cauliflower, but if you don't have a pressure cooker place the potatoes and cauliflower chunks into in a sauce pot, cover with cold water and bring to a boil. Simmer until the potatoes are tender but not mushy, about 20 minutes. Drain well.
And now I'm am going to make at least half of you mad. I use an electric  hand mixer to "mash" my potatoes and cauliflower. My mother always used a hand potato masher or you can use a potato ricer. Anyway, just mash up the potatoes and cauliflower, add the butter, and enough milk to make the potato mixture a nice mashed potato consistency.
Serve hot with yummy gravy. The first time I made mashed potatoes like this, my family loved them. They couldn't figure out what I had done differently, but they really liked it and thought I should keep making them this way. I have! 😉